It was a frigid, snowy day here in Michigan and all I really want right now is a big mug of hot chocolate and whipped cream. I found this scrumptious looking recipe for Nutella Hot Chocolate and homemade whipped cream on thehungryhousewife.com. Enjoy :)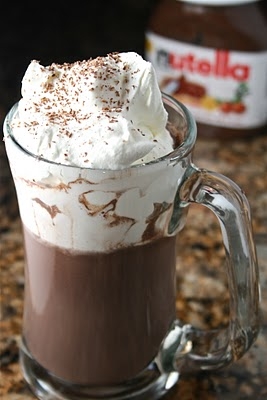 Ingredients:
1 cup of milk
2 1/2 tbsp of Nutella
1 tbsp of cocoa
Pinch of salt
In a small sauce pan over medium heat, whisk all ingredients together until well blended and hot. Pour in a cup and top with homemade whipped cream and shaved chocolate.
Homemade Whipped Cream Ingredients:
1 cup of heavy whipping cream
1 tbsp of sugar
1/2 tsp of vanilla extract
Place a medium bowl and your beaters from your electric mixer in the freezer for 10 minutes. Pour all ingredients into the chilled bowl and start to beat. Start off on low and gradually work your way up to high. It will be done when it is the consistency of whipped cream, don't over beat!